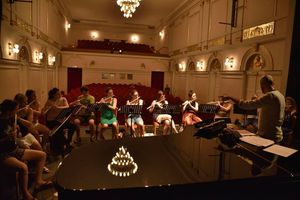 Michele Gori è Professore e Coordinatore del Dipartimento Jazz presso il Conservatorio "Emmanuel Chabrier" di Clermont-Ferrand (Francia). Tiene regolarmente corsi, laboratori e masterclass in conservatori e scuole musicali di tutta Europa. E' disponibile per masterclass, workshop, seminari, lezioni individuali e online
. Per contatti e informazioni, compilare il form sottostante.
Michele Gori is Professor and Head of Jazz Department at the Conservatory "Emmanuel Chabrier", Clermont-Ferrand (France). He regularly gives masterclass all over Europe. He is available for masterclasses, workshops, visiting professorships, individual lessons and online lessons. For further informations and inquiries, please use the contact form.
Michele Gori est Professeur et Coordinateur du Département de Jazz du CRR "Emmanuel Chabrier" de Clermont-Ferrand. Il tient régulièrment des master-classes, stages et ateliers dans les conservatoires et écoles de musique de toute l'Europe.

  Il est disponible pour master-classes, projets, workshops, cours individuels et cours en ligne. Pour plus de renseignements, merci d'utiliser le formulaire de contact.