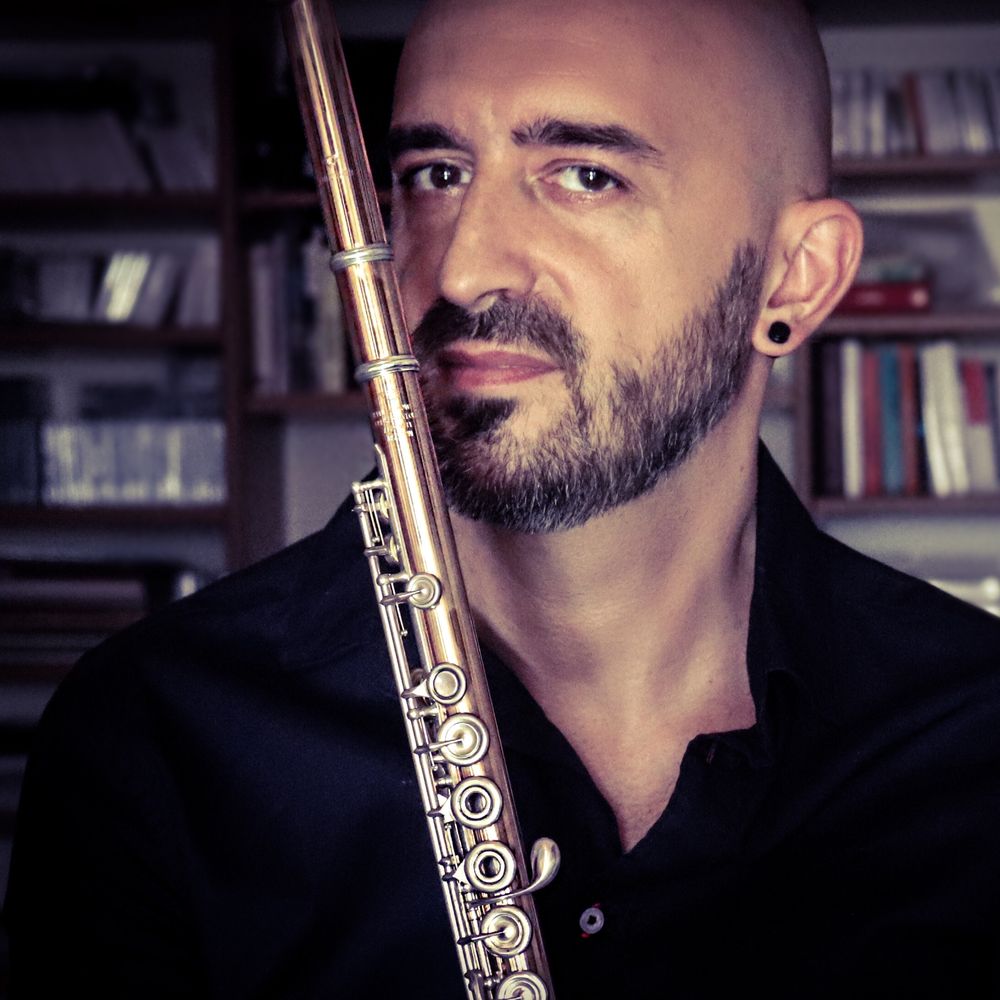 Michele Gori
Born in Domodossola (Italy) in 1980, Michele Gori is considered one of the most prominent flute players of the European jazz scene, and he is recognized internationally as a specialist in the use of the entire flute family and electronics. He is the only Italian flutist to hold an academic position as a professor of jazz flute.
He graduated in flute at the conservatory "G. Cantelli" of Novara, received an honors degree in jazz music at the conservatory "G. Verdi" in Milan and a diploma in jazz flute from the "Centre d'Information Musicales" in Paris.

His multi-faceted musical career has led him to give  concerts and masterclasses in Italy, Switzerland, Germany, France, Croatia, Portugal, Spain, England, Denmark, Norway and United States. He has made recordings for music programs for the Italian national channels Rai3, Rai5 and Rete4.
He has appeared as a performer and teacher to some of the most important flute conventions: III° and IV° Convention Français de la Flûte (Paris), London Flute School (London), Flauto che Passione (Brescia), International Flute Symposium (West Virginia, USA), Kentucky Flute Festival (Bowling Green, USA), Mid-Atlantic Flute Fair (Washington DC, USA), etc..

He has made recordings for Splasch Records, Dodicilune, Music Center, Nu Bop Records, Schema Records, FaLaUt Collection. He has released two albums under his own name, both at the wheel of the "Michele Gori 4tet": "My Jazz Flutes" and "Flute Stories". He was founder, along with flutists Stefano Benini and Stefano Leonardi, the collective  "Flut3ibe", and worked as a sideman in formations ranging from duo to big band.

In 2011 he created the "Just Flutes Solo Project", a pioneering and revolutionary research project involving workshops, masterclasses and concerts in Europe and the United States to showcase the use of the entire flute family and electronics. the whole family of flutes and electronics. Hailed as an inspiration by flautists all over the world, the prohect culminated in the 2015 album  "The Electric Flute".

As an educator Michele Gori is one of the most popular and sought after jazz flutists. He is Jazz  Professor and Head of Jazz Department at the conservatory of music "Emmanuel Chabrier" (Clermont-Ferrand, France) and he regularly gives masterclasses all over Europe at conservatories, music schools and musical associations.

He is the author of the educational books "Jazz Flute Training I&II", "Jazz Flute Solos", "Dave Valentin Jazz Flute Solos" and "Play the Jazz Flutes". He has partnered with the quarterly French flute "Traversières" and is the author on the website Jazzitalia of a blog online lessons that appear to be the most visited web pages for the flute Italy.
In August 2009 he was awarded the prestigious "Premio Brusoni" in recognition of his concerts and teaching activities with the jazz flute. In 2016 and 2017 he was awarded the "Jazzit Award" as "Best Italian jazz flutist".